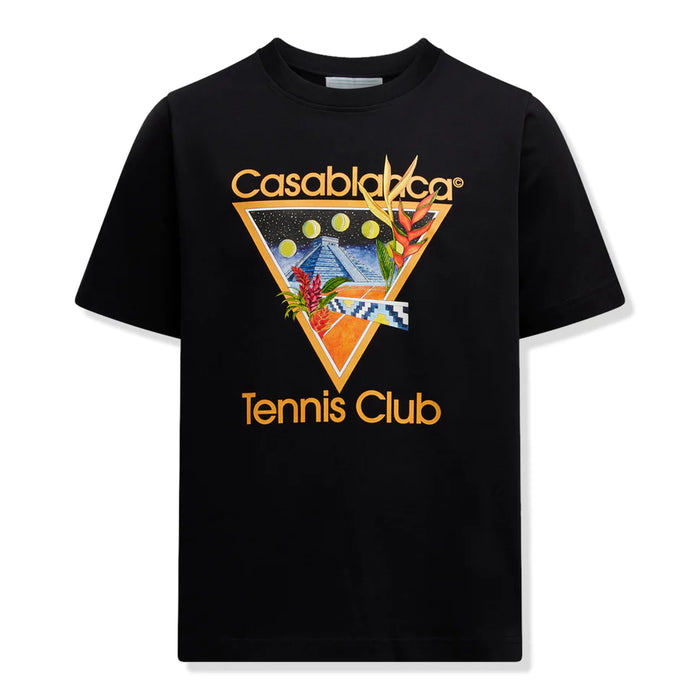 CASABLANCA TENNIS CLUB ICON PRINTED ORGANIC COTTON BLACK T SHIRT
For any casual event, the Casablanca Tennis Club Icon Printed Black T-Shirt is a chic and practical wardrobe essential. This shirt is pleasant to the touch and provides exceptional comfort and breathability because it is made of premium cotton. This T-shirt has a traditional black colourway and a striking icon print of the Casablanca Tennis Club insignia on the front, which gives the overall design a vintage feel. The club's lengthy history and enduring significance in the tennis community are referenced in the logo. A shirt is a versatile option that can be worn alone or layered under a jacket or sweater because it also has a traditional crew neckline and short sleeves. The regular fit of the shirt provides a comfortable and relaxed silhouette that flatters all body types. Whether you're playing a game of tennis or just running errands around town, the Casablanca Tennis Club Icon Printed Black T-Shirt is a perfect choice. It's stylish, comfortable, and versatile, making it a must-have for any fashion-forward individual looking for a classic and timeless wardrobe staple.

Our team are able to meet special and on-demand requirements.
We can provide same-day delivery in London and surrounding areas 24/7 to meet your needs.
This service can only be booked with our concierge team via Whatsapp.
WhatsApp Number | +447939393965
Authenticity is the foundation of our business. We are true to who we are, true to what we do and true to who we serve. We have an in house team, who have got 10+ years experience in making sure every single item we sell is Authentic. We only source our products from industry verified and trusted suppliers.
When you shop with crepsuk.com, you can have peace of mind, as you're always buying 100% Authentic.