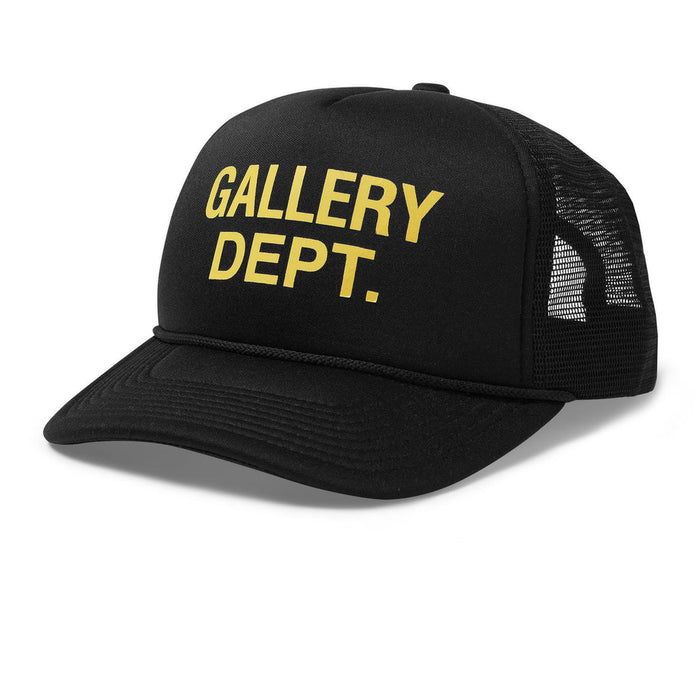 Gallery Dept. Logo Black Trucker Cap
Presenting the Gallery Dept. Logo Black Trucker Cap, is the ideal addition for anyone wishing to update their wardrobe with a timeless and traditional piece. This cap is made of premium materials, is strong and comfortable, and will last you season after season. This cap is ideal for anyone who wants to add a touch of subtle elegance to their attire. It has a sleek and bold printed Gallery Dept. logo on the front in yellow. For any fashion conscious person, this cap is a must-have because of its timeless and adaptability. This hat, which is made in the traditional trucker cap design, is ideal for any casual occasion or for adding a touch of luxury to any ensemble. The caps adjustable closure makes sure everyone gets a snug fit, making it a versatile accessory that can be worn by anyone. Whether you're running errands or heading out for the day with friends, the Gallery Dept. Logo Black Trucker Hat is the perfect accessory to elevate your look. Don't wait any longer to add this classic and stylish cap to your collection - order now and take your accessory game to the next level!
Our team are able to meet special and on-demand requirements.
We can provide same-day delivery in London and surrounding areas 24/7 to meet your needs.
This service can only be booked with our concierge team via Whatsapp.
WhatsApp Number | +447939393965
Authenticity is the foundation of our business. We are true to who we are, true to what we do and true to who we serve. We have an in house team, who have got 10+ years experience in making sure every single item we sell is Authentic. We only source our products from industry verified and trusted suppliers.
When you shop with crepsuk.com, you can have peace of mind, as you're always buying 100% Authentic.