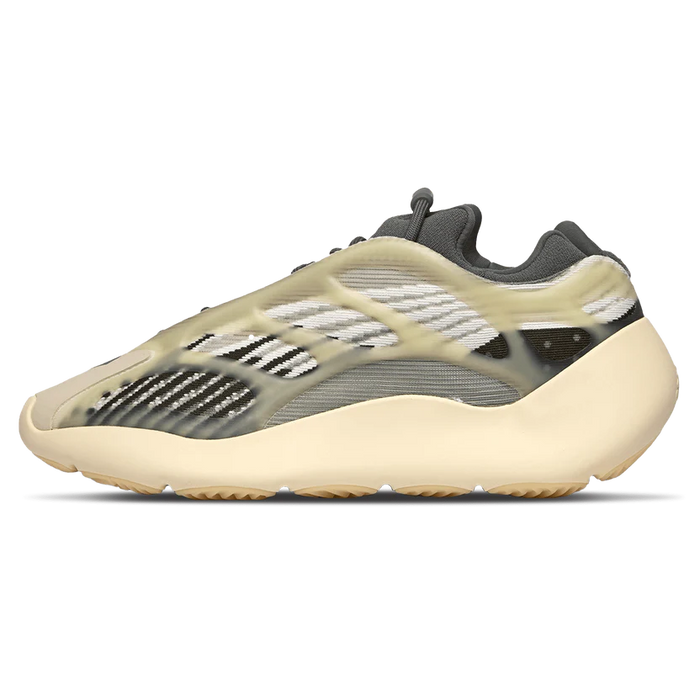 Adidas Yeezy 700 V3 'Fade Salt'
The adidas Yeezy 700 V3 'Fade Salt' dresses the chunky silhouette in a wholly neutral palette, highlighted by an engineered mesh upper in a complementary blend of white, black and grey. Interior bootie construction delivers a snug, comfortable fit, while a glow-in-the-dark RPU overlay offers structural support. Lightweight cushioning is provided by a full-length EVA midsole, encapsulated in a durable polyurethane carrier in a subtle off-white finish. Underfoot, the rubber outsole features a herringbone traction pattern for optimal grip.

Our team are able to meet special and on-demand requirements.
We can provide same-day delivery in London and surrounding areas 24/7 to meet your needs.
This service can only be booked with our concierge team via Whatsapp.
WhatsApp Number | +447939393965
Authenticity is the foundation of our business. We are true to who we are, true to what we do and true to who we serve. We have an in house team, who have got 10+ years experience in making sure every single item we sell is Authentic. We only source our products from industry verified and trusted suppliers.
When you shop with crepsuk.com, you can have peace of mind, as you're always buying 100% Authentic.
Adidas Size Chart
| MEN'S FOOT LENGTH (centimeters) | EU SIZE | UK SIZE | US SIZE |
| --- | --- | --- | --- |
| 22 | 36 | 36 | 4 |
| 22.5 | 36.7 | 36.7 | 4.5 |
| 23 | 37.3 | 37.3 | 5 |
| 23.5 | 38 | 38 | 5.5 |
| 24 | 38.7 | 38.7 | 6 |
| 24.5 | 39.3 | 39.3 | 6.5 |
| 25 | 40 | 40 | 7 |
| 25.5 | 40.7 | 40.7 | 7.5 |
| 26 | 41.3 | 41.3 | 8 |
| 26.5 | 42 | 42 | 8.5 |
| 27 | 42.7 | 42.7 | 9 |
| 27.5 | 43.3 | 43.3 | 9.5 |
| 28 | 44.7 | 44.7 | 10 |
| 28.5 | 44.3 | 44.3 | 10.5 |
| 29 | 45 | 45 | 11 |
| 29.5 | 45.7 | 45.7 | 11.5 |
| 30 | 46.3 | 46.3 | 12 |
| 30.5 | 47 | 47 | 12.5 |
| 31 | 47.5 | 47.5 | 13 |
| 31.5 | 48 | 48 | 13.5 |
| 32 | 48.7 | 48.7 | 14 |
| 32.5 | 49.3 | 49.3 | 14.5 |
| 33 | 50 | 50 | 15 |
| --------------------------------------------------- | ------------ | ------ | --------- |