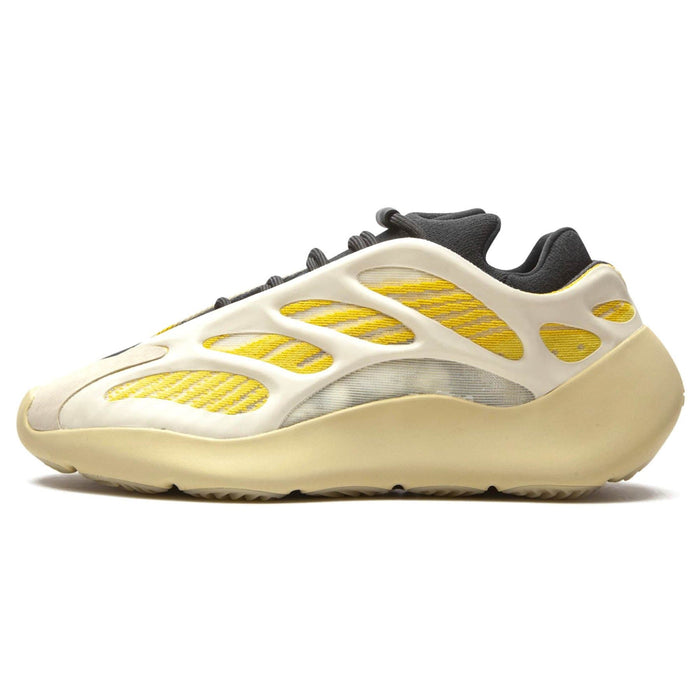 Adidas Yeezy 700 V3 Safflower
The Yeezy 700 V3 'Safflower' emerges with a neutral look on its progressive construction. The shoe's monofilament mesh upper includes striated detailing throughout its design, with a glow-in-the-dark RPU cage that runs the length of the shoe. A black inner bootie and tonal laces support the fit, while underfoot, the EVA midsole is encased in PU, with an exaggerated build at the heel. A rubber outsole is included for traction.
Brand : Adidas
SKU : G54853
Our team are able to meet special and on-demand requirements.
We can provide same-day delivery in London and surrounding areas 24/7 to meet your needs.
This service can only be booked with our concierge team via Whatsapp.
WhatsApp Number | +447939393965
Authenticity is the foundation of our business. We are true to who we are, true to what we do and true to who we serve. We have an in house team, who have got 10+ years experience in making sure every single item we sell is Authentic. We only source our products from industry verified and trusted suppliers.
When you shop with crepsuk.com, you can have peace of mind, as you're always buying 100% Authentic.
Adidas Size Chart
| MEN'S FOOT LENGTH (centimeters) | EU SIZE | UK SIZE | US SIZE |
| --- | --- | --- | --- |
| 22 | 36 | 36 | 4 |
| 22.5 | 36.7 | 36.7 | 4.5 |
| 23 | 37.3 | 37.3 | 5 |
| 23.5 | 38 | 38 | 5.5 |
| 24 | 38.7 | 38.7 | 6 |
| 24.5 | 39.3 | 39.3 | 6.5 |
| 25 | 40 | 40 | 7 |
| 25.5 | 40.7 | 40.7 | 7.5 |
| 26 | 41.3 | 41.3 | 8 |
| 26.5 | 42 | 42 | 8.5 |
| 27 | 42.7 | 42.7 | 9 |
| 27.5 | 43.3 | 43.3 | 9.5 |
| 28 | 44.7 | 44.7 | 10 |
| 28.5 | 44.3 | 44.3 | 10.5 |
| 29 | 45 | 45 | 11 |
| 29.5 | 45.7 | 45.7 | 11.5 |
| 30 | 46.3 | 46.3 | 12 |
| 30.5 | 47 | 47 | 12.5 |
| 31 | 47.5 | 47.5 | 13 |
| 31.5 | 48 | 48 | 13.5 |
| 32 | 48.7 | 48.7 | 14 |
| 32.5 | 49.3 | 49.3 | 14.5 |
| 33 | 50 | 50 | 15 |
| --------------------------------------------------- | ------------ | ------ | --------- |