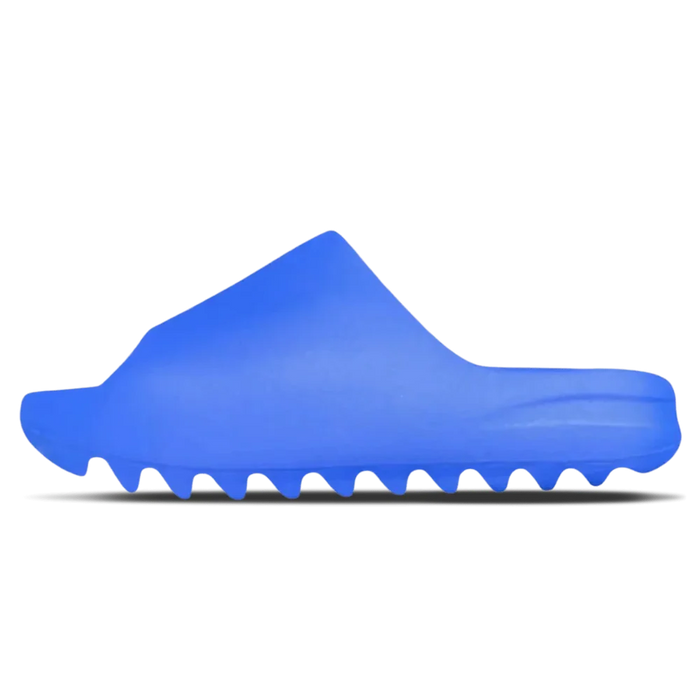 Adidas Yeezy Slides 'Azure' 2023
The adidas Yeezy Slide 'Azure' showcases a vibrant blue finish on the futuristic comfort sandal, featuring a minimalist one-piece build made with injected EVA foam. Exterior branding is limited to the soft top layer of the footbed, highlighted by a discreet adidas logo debossed at the heel. The slip-on is underpinned by a serrated outsole with strategic ridge placement, offering a combination of impact protection and grip.

Now available at CrepsUK. We reccomend going a size up as these run small, preferablly two if you have a wider foot.
Our team are able to meet special and on-demand requirements.
We can provide same-day delivery in London and surrounding areas 24/7 to meet your needs.
This service can only be booked with our concierge team via Whatsapp.
WhatsApp Number | +447939393965
Authenticity is the foundation of our business. We are true to who we are, true to what we do and true to who we serve. We have an in house team, who have got 10+ years experience in making sure every single item we sell is Authentic. We only source our products from industry verified and trusted suppliers.
When you shop with crepsuk.com, you can have peace of mind, as you're always buying 100% Authentic.
Adidas Size Chart
| MEN'S FOOT LENGTH (centimeters) | EU SIZE | UK SIZE | US SIZE |
| --- | --- | --- | --- |
| 22 | 36 | 36 | 4 |
| 22.5 | 36.7 | 36.7 | 4.5 |
| 23 | 37.3 | 37.3 | 5 |
| 23.5 | 38 | 38 | 5.5 |
| 24 | 38.7 | 38.7 | 6 |
| 24.5 | 39.3 | 39.3 | 6.5 |
| 25 | 40 | 40 | 7 |
| 25.5 | 40.7 | 40.7 | 7.5 |
| 26 | 41.3 | 41.3 | 8 |
| 26.5 | 42 | 42 | 8.5 |
| 27 | 42.7 | 42.7 | 9 |
| 27.5 | 43.3 | 43.3 | 9.5 |
| 28 | 44.7 | 44.7 | 10 |
| 28.5 | 44.3 | 44.3 | 10.5 |
| 29 | 45 | 45 | 11 |
| 29.5 | 45.7 | 45.7 | 11.5 |
| 30 | 46.3 | 46.3 | 12 |
| 30.5 | 47 | 47 | 12.5 |
| 31 | 47.5 | 47.5 | 13 |
| 31.5 | 48 | 48 | 13.5 |
| 32 | 48.7 | 48.7 | 14 |
| 32.5 | 49.3 | 49.3 | 14.5 |
| 33 | 50 | 50 | 15 |
| --------------------------------------------------- | ------------ | ------ | --------- |