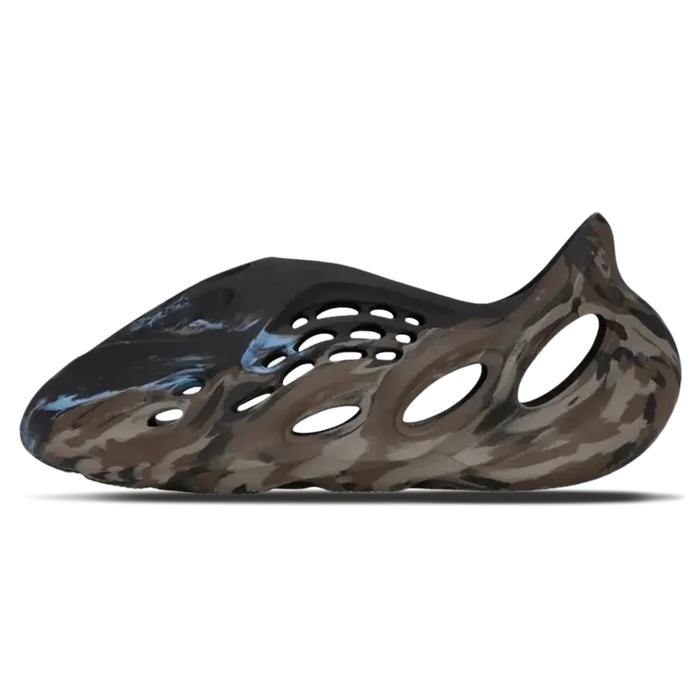 Adidas Yeezy Foam Runner 'Mx Brown Blue' 2023
Utilizing the ultra-comfortable EVA and algae foam composite, the one-piece slip-on clog features its typical design details throughout. Various perforations around the sneaker aid breathability with the large holes on the heel calling back to the sole unit of the Yeezy 700. For this particular colorway, a marbled "MX" effect is applied to the black base layer as brown and tan shades are featured from the heel towards the toe while the toebox itself receives a splash of sky blue. Like all MX colorways, the pattern on each pair is unique, making no two pairs alike. Rounding out the design is the wavy traction pattern with cut-outs featured on the foam outsole, carrying on the brown and tan marbled effect.
Now available at CrepsUK. We reccomend going a size up as these run small, preferablly two if you have a wider foot.

Our team are able to meet special and on-demand requirements.
We can provide same-day delivery in London and surrounding areas 24/7 to meet your needs.
This service can only be booked with our concierge team via Whatsapp.
WhatsApp Number | +447939393965
Authenticity is the foundation of our business. We are true to who we are, true to what we do and true to who we serve. We have an in house team, who have got 10+ years experience in making sure every single item we sell is Authentic. We only source our products from industry verified and trusted suppliers.
When you shop with crepsuk.com, you can have peace of mind, as you're always buying 100% Authentic.
Adidas Size Chart
| MEN'S FOOT LENGTH (centimeters) | EU SIZE | UK SIZE | US SIZE |
| --- | --- | --- | --- |
| 22 | 36 | 36 | 4 |
| 22.5 | 36.7 | 36.7 | 4.5 |
| 23 | 37.3 | 37.3 | 5 |
| 23.5 | 38 | 38 | 5.5 |
| 24 | 38.7 | 38.7 | 6 |
| 24.5 | 39.3 | 39.3 | 6.5 |
| 25 | 40 | 40 | 7 |
| 25.5 | 40.7 | 40.7 | 7.5 |
| 26 | 41.3 | 41.3 | 8 |
| 26.5 | 42 | 42 | 8.5 |
| 27 | 42.7 | 42.7 | 9 |
| 27.5 | 43.3 | 43.3 | 9.5 |
| 28 | 44.7 | 44.7 | 10 |
| 28.5 | 44.3 | 44.3 | 10.5 |
| 29 | 45 | 45 | 11 |
| 29.5 | 45.7 | 45.7 | 11.5 |
| 30 | 46.3 | 46.3 | 12 |
| 30.5 | 47 | 47 | 12.5 |
| 31 | 47.5 | 47.5 | 13 |
| 31.5 | 48 | 48 | 13.5 |
| 32 | 48.7 | 48.7 | 14 |
| 32.5 | 49.3 | 49.3 | 14.5 |
| 33 | 50 | 50 | 15 |
| --------------------------------------------------- | ------------ | ------ | --------- |